The Essential Guide to Traveling in Switzerland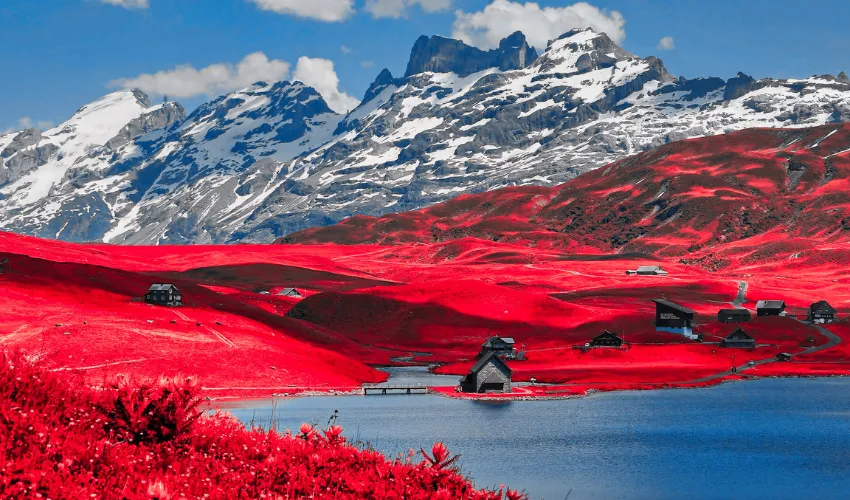 With stunning alpine vistas, pristine lakes, charming villages, and efficient public transportation, Switzerland is one of Europe's most scenic and enjoyable countries to explore. This guide outlines everything you need to plan the perfect trip through quintessential Swiss destinations.
Getting There and Getting Around
Switzerland has major international airports in Zurich, Geneva and Basel with connections across Europe and worldwide.
Excellent rail infrastructure makes getting around easy, including high-speed trains and scenic alpine routes. Purchase Swiss Travel Passes for unlimited train travel.
Buses, boats, trams and funiculars supplement trains, especially accessing mountain areas. Swiss Travel Passes cover many of these too.
Driving is feasible but requires fitting rental cars with annual passes for Switzerland's vignette highway system.
Top Destinations and Activities
Zurich
Switzerland's largest city, Zurich blends a historic old town with cutting edge arts, nightlife and fine dining.
Walk along the Limmat river and Lake Zurich then explore winding lanes like Niederdorfstrasse.
Visit the iconic Grossmünster church and Fraumünster with Marc Chagall windows.
Great museums include the Swiss National Museum and Kunsthaus Zürich art museum.
Indulge in Zurich's buzzing cafe culture and taste Swiss specialties like cheese fondue.
Bern
Switzerland's capital Bern charms visitors with its medieval old town and folkloric traditions.
Stroll through downtown's arcades lined with Renaissance fountains and stunning Alpine views.
See the famous Bear Park where resident bears have lived for decades.
Tour the huge Gothic cathedral and Einstein Museum chronicling the famous scientist's time here.
Lucerne
Situated on tranquil Lake Lucerne, this city combines breathtaking Alpine vistas with historic bridges and buildings.
Walk across the iconic medieval Chapel Bridge and climb the old Towers of Lucerne.
Ride a funicular up Mount Pilatus for panoramic views and hiking trails.
Cruise Lake Lucerne to trace Switzerland's rugged shorelines and majestic mountain faces.
Interlaken
Sandwiched between Lake Brienz and Lake Thun, Interlaken is a base for countless mountain adventures.
Ride the famed Jungfrau railway up to Jungfraujoch mountain station with observation deck.
Paraglide off peaks like Beatenberg for spectacular views of Eiger, Monch and Jungfrau peaks.
Raft or canyon jump in the mountain-fed River Aare running through town.
Use Interlaken as home base to access skiing, hiking trails and summit climbs around the region.
Geneva
Sophisticated Geneva lies along the shores of Europe's largest Alpine lake bearing its name.
Explore the Old Town's cobblestone streets and medieval cathedral. Ascend the North Tower for views.
The Lakefront is lined with parks, monuments like the floral clock, and views of Mont Blanc in France.
Tour CERN, the nuclear research complex where scientists discovered the Higgs boson particle.
Sample Swiss watches, chocolate and cheese between basking in Geneva's understated elegance.
Zermatt and the Matterhorn
Glamorous Zermatt village lies in the shadow of Switzerland's iconic pointed Matterhorn peak.
Take the Gornergrat railway up to 3090m for breathtaking views of the Matterhorn and surrounding mountains.
Hike through alpine forests and wildflower meadows in valleys below the Matterhorn.
Treat yourself to mountain cuisine and world-class lodging amidst Zermatt's quaint chalet ambience.
Lauterbrunnen Valley and Trümmelbach Falls
This glacial valley boasts thundering waterfalls plummeting from imposing cliffs.
Take the train to Jungfraujoch overlooking the valley then descend to hike river trails.
Trümmelbach Falls rage inside the mountain, accessible by lift into the heart of the rock.
Stay in car-free Wengen or Mürren villages peppered on the valley floor and mountainsides.
Appenzell Region
Rolling green hills and rich cultural traditions characterize Appenzell in northeast Switzerland.
Visit traditional cheesemaking operations throughout the dairying villages. Sample the famous cheese.
Colorful Appenzell embroidery and regional costumes reflect the local craft heritage.
Hike or bike over lush hills and fields dotted with historic churches and monasteries like St. Johann.
Hohem Kasten peak and Ebenalp cliffside restaurant offer panoramic Appenzell views.
Swiss Alps Hiking, Biking and Skiing
Switzerland boasts countless mountain trails delivering epic alpine scenery. Lift-accessible ski areas across different peaks and valleys suit all abilities. Top spots include:
Mürren skiing in the Jungfrau region with stunning views of Eiger, Mönch and Jungfrau.
Glacier 3000 above picturesque Gstaad with summer snow sports on the Diablerets Glacier.
Family-friendly Stoos with Lagotrail ropes course and zipline above alpine Lake Lucerne.
Car-free Zermatt mattered for scenic skiing under the Matterhorn's stunning pyramidal face.
Diverse skiing at Flims, Laax and Falera in the Graubünden mountains surrounding chic Chur.
Summer hiking and biking around historic Klosters, Silva Plana and St Moritz trails.
Must Try Food and Drink
Fondue: Bread and vegetables dipped in melted cheese, with white wine.
Raclette: Melted cheese served with pickles, boiled potatoes and meats.
Rösti: Crispy grated and pan-fried potato fritters, often topped with cheese or egg.
Chocolate: Switzerland is famed for smooth, creamy chocolate. Lindt and Toblerone are top brands.
Rivella: Unique Swiss soft drink made from milk whey, with a sweet citrusy flavor.
Wine: Swiss wines like Fendant, Dôle, and Pinot Noir from Valais canton.
Bratwurst: Veal or pork sausages often served boiled with onion/garlic sauce.
Zopf: Braided egg bread typically enjoyed on Sundays or holidays.
Conclusion
With its breathtaking scenery, efficient travel networks, charming villages, and culinary treats, Switzerland promises an idyllic and thoroughly European experience. Use this guide to craft an unforgettable Swiss itinerary immersing you in culture and nature.