Entertaining Places for Family Fun in the USA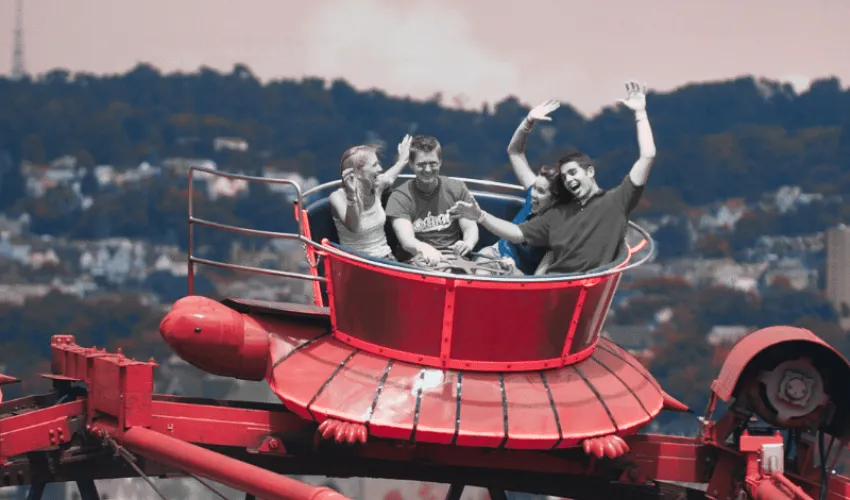 Family outings are a cherished way to create lasting memories, strengthen bonds, and have a blast together. In the vast expanse of the United States, there's no shortage of places that offer exciting entertainment for families of all sizes. From thrilling theme parks to scenic natural wonders, cultural havens to sunny beaches, and bustling urban hubs, here are some of the best places to entertain your family across the USA.
1. Theme Park Delights:
Get ready to embark on a whirlwind of excitement at some of the most renowned theme parks in the country. These destinations promise a mix of heart-pounding rides, lively shows, and the chance to meet beloved characters.
Disneyland, California: The magic of Disney comes to life with enchanting attractions, immersive lands, and parades that captivate visitors of all ages.
Universal Studios, Florida: Immerse yourself in movie magic with thrilling rides based on iconic films and the Wizarding World of Harry Potter.
Walt Disney World, Florida: A vast complex of theme parks, water parks, and entertainment options that cater to every family member's interests.
Cedar Point, Ohio: For adrenaline seekers, this roller coaster haven offers record-breaking rides and adrenaline-pumping experiences.
Hersheypark, Pennsylvania: A paradise for chocolate lovers, this park combines chocolate-themed attractions with exciting rides.
2. Nature's Playground and Adventure:
Nature lovers will find solace in the USA's national parks and outdoor destinations, offering an abundance of outdoor activities, scenic beauty, and educational opportunities.
Yellowstone National Park, Wyoming: Witness geysers, hot springs, and stunning wildlife in the world's first national park.
Great Smoky Mountains National Park, Tennessee: Explore picturesque trails, discover waterfalls, and witness the magic of the forest.
Grand Canyon National Park, Arizona: A breathtaking wonder that offers helicopter tours, awe-inspiring viewpoints, and unparalleled beauty.
Rocky Mountain National Park, Colorado: Enjoy alpine landscapes, wildlife spotting, and family-friendly hiking trails in this iconic park.
Acadia National Park, Maine: Combining coastal beauty with hiking trails and opportunities for water-based activities.
3. Cultural Enrichment:
Ignite your family's curiosity by exploring cultural and historical treasures found in these cities that are teeming with museums, galleries, and educational experiences.
Washington, D.C.: Dive into history and politics with Smithsonian museums, historical monuments, and interactive exhibits.
New York City, New York: The city that never sleeps offers Broadway shows, world-class museums, and iconic landmarks.
Boston, Massachusetts: Follow the Freedom Trail, immerse yourself in history, and explore family-friendly museums.
Chicago, Illinois: Enjoy Navy Pier, the Shedd Aquarium, Millennium Park, and captivating theater productions.
San Francisco, California: From Golden Gate Park to Alcatraz Island, uncover the city's rich history and innovation.
4. Sun, Sand, and Seaside Fun:
For families seeking relaxation and seaside activities, these coastal destinations offer sandy shores, water sports, and family-friendly attractions.
Myrtle Beach, South Carolina: A family-friendly beach destination featuring amusement parks, water parks, and entertainment complexes.
Outer Banks, North Carolina: Discover stunning beaches, historic lighthouses, and a range of water activities.
Destin, Florida: Crystal-clear waters, dolphin watching, and beachfront resorts make this a perfect family escape.
Santa Monica, California: Iconic beachfront attractions, Santa Monica Pier, and a vibrant boardwalk for all ages.
Cape Cod, Massachusetts: Relax on charming beaches, engage in whale watching, and immerse yourself in maritime history.
5. Urban Entertainment Hubs:
Experience the hustle and bustle of these urban centers, where family-friendly attractions blend seamlessly with cultural exploration and entertainment.
Orlando, Florida: Beyond theme parks, Orlando offers attractions like ICON Park and SEA LIFE Orlando for the whole family.
Las Vegas, Nevada: Surprisingly family-friendly, enjoy captivating shows, adventure activities, and aquariums.
San Antonio, Texas: Explore the River Walk, visit SeaWorld, and learn about history at the historic Alamo.
Philadelphia, Pennsylvania: Engage in history with the Liberty Bell, the Philadelphia Zoo, and interactive science museums.
Atlanta, Georgia: From the Georgia Aquarium to Zoo Atlanta, the city combines learning and fun.
Conclusion:
The United States is a treasure trove of family-friendly entertainment, offering diverse experiences that cater to all interests and ages. Whether you're seeking thrills, natural wonders, cultural enrichment, beach relaxation, or urban excitement, these entertaining places ensure that your family's adventures will be filled with laughter, joy, and unforgettable memories that will last a lifetime.